Vol 1, No. 11, March 2000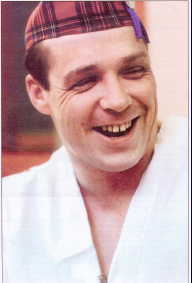 The Crime That Never Was
By Karen Richey
Edited by Dolores Kennedy
"Even though this new evidence may establish Mr. Richey's innocence, the Ohio and United States Constitutions nonetheless allow him to be executed because the prosecution did not know that the scientific testimony offered at trial was false and unreliable." -- Prosecutor Dan Gershutz
The death penalty is in trouble. When Illinois Governor George Ryan announced a moratorium on the death penalty, preventing further executions in his state pending a careful review of the process, U.S. citizens across the country sat up and took notice. Even strong supporters of capital punishment began to wonder -- could our system be flawed? Could innocent people be sent to their deaths or, at the least, forced to spend countless years on death row? Could it be true that our courts are corrupted by prosecutorial misconduct, inadequate defense, tampered evidence and unreliable witnesses?
No case presents more evidence of a flawed judicial system than does Kenny Richey's. He is currently on Ohio's death row for a crime he did not commit and which, in fact, appears not to have been a crime at all. How can that be? Meet Kenny Richey.
Born in the Netherlands, where his father was stationed in the U.S. Air Force, Kenny was only three months old when the family moved to Edinburgh, Scotland. He grew to consider Scotland his native land, and remained there with his mother, father and two younger brothers until he was 18.
In 1982, his parents divorced. Kenny moved to the United States with his father, where he held various jobs, married, and had a son. Kenny's marriage failed, and he followed his father to Columbus Grove, Ohio. His life was complicated by periods of depression and conflict with his father, Jim Richey.
In an interview with The Blade of Columbus, Ohio, Jim Richey recalled that Kenny was a rebellious child, and an often-irresponsible adult who loved to party. But, he added, "Kenny has this warm, very sensitive caring side about him. He's got a heart. And he loved kids, he really did. They related to him because he was a little kid at heart."
After five years in the States, Kenny decided to return to his native Scotland. One week before his departure, in the early hours of June 30, 1986, a fire broke out in an upper apartment of the building where Kenny and his father lived. The flames spread rapidly, engulfing the living room and hallway before firemen could extinguish the blaze. Minutes later, the body of a child was carried from the building. Trapped in her room, two-year-old Cynthia Collins had died from smoke inhalation.
As firefighters approached the building, a witness remembers hearing Kenny shout, "There's a baby in there!"
"I never saw anyone freak out like he was," the witness recalled.
Firefighters prevented Richey from entering the blazing structure. "He was pulling. He was struggling," says Keith Hartoon, a Columbus Grove fire department volunteer.
In the days that followed, Kenny Richey was arrested and charged with arson, aggravated murder, child endangerment and breaking and entering. Kenny insisted he was innocent, but it was an election year. Prosecutor Randall Basinger was vying for the position of county judge. A child was dead, and seeking the ultimate punishment for a suspect would strengthen Basinger's image as a prosecutor who was tough on crime.
How did this tragedy occur? Hope Collins, the divorced mother of Cynthia, left her apartment after midnight that hot June night, intending to spend the night with her boyfriend. It is well documented that Hope regularly left Cynthia unattended, sometimes feeding her adult sleeping pills before doing so. Putnam Child Welfare Services had repeatedly contacted Hope about this practice, which was reported by a neighbor, but no action was taken.
After the fire, when threatened with arrest for child neglect, Hope claimed that she left the child in the care of Kenny Richey. Kenny was a friend, and one of several people who had attended a party just outside the apartment building on the night of the fire. Hope claimed that she had asked Kenny to watch her child moments before she climbed into her boyfriend's truck. Kenny maintained that he never agreed to baby-sit, because he was too drunk.
Two witnesses were present -- Hope's boyfriend and his buddy, who was sitting in the passenger seat of the truck. Both men denied hearing Hope ask Kenny to watch her child. A third witness, a building resident, stated that she observed Hope climbing into the truck, then saw an obviously drunk Kenny stumble from the pavement and collapse in nearby bushes, where he lay for ten minutes. The witness testified that she was about to leave her apartment to check on Kenny's condition, when he finally got to his feet and staggered from her view.
Shortly after, the fire broke out in the building, and young Cynthia Collins died.
Hours later, when Hope was informed of the fire and her daughter's death, she made no comment about the whereabouts of any "babysitter." Upon arriving at St. Rita's Medical Center in Lima, where her daughter was taken, Hope told the attending physician that the child had previously set fires in her apartment. In fact, during the two weeks before the fire, the local fire chief had been called to Hope's apartment on three occasions to investigate mysterious smoke .
Prosecutor Basinger had an election to win. He needed to convict a killer. So, he manufactured himself a killer in the person of Kenny Richey.
The local fire chief arrived to inspect the apartment. State law, however, demanded that the state Fire Marshall's Office investigate the scene of the fire because a life had been lost. After a brief inspection, Fire Marshall Robert G. Cryer declared that the fire started "accidentally by an electric fan" and ordered the building owner to gut the apartment. Within hours, the apartment's charred furnishings were thrown into a lorry and carried to the local dump. Logically, if the Fire Marshall had suspected foul play, the apartment would have been taped off and preserved for further investigation and evidence gathering.
With Hope Collins' claim that she had left her daughter in his care, Kenny Richey became the prime suspect, despite evidence that he had tried unsuccessfully to rescue Cynthia from the burning apartment.
Prosecutor Basinger dominated the front pages of the local newspaper by announcing that he was seeking the death penalty because there was "specific intent to cause the death of another." This was Putnam County's first capital case since a pig thief dangled from the end of a rope in the 1800s.
The possibility of a return of the death penalty was big news, and no one was surprised when Prosecutor Basinger was elected to a position of even greater power -- Judge Basinger. Following the election, Basinger offered Kenny a "plea bargain." If Kenny would plead guilt to second degree murder, he would receive a sentence of ten years with the possibility of parole after he had served six years. Still maintaining his innocence, Kenny refused to accept the plea bargain.
"I'm going to stick with my plea of not guilty and take my chances with the death penalty," Kenny wrote to his brother, Tom. "I told them I'm innocent and that's the way I'm going to plead and nothing else."
As a result, Basinger continued to prosecute the case, waiting to take the bench until after the trial. It was a trial that lasted only three days, was devoid of a jury, and was heard before a three-judge panel led by Judge Michael Corrigan. The prosecution called 34 witnesses; Kenny's attorney called six. Attempting to portray Kenny as a calculating killer, Basinger fabricated the following story:
When the party ended, Kenny collapsed in the bushes outside the building. Picking himself up, he did not walk to his father's apartment to go to sleep as he contended, but instead broke into a commercial greenhouse that stood near the apartment complex. He stole cans of petrol and paint thinner and returned to the front of the apartment where Hope Collins lived. A utility shed stood below Hope's living room balcony and the prosecution insisted that Kenny climbed on the shed, gaining access to Hope's balcony and then her living room. Once inside, the prosecutor claimed that Kenny splashed petrol and paint thinner throughout the living room, set the fire, and then escaped back over the balcony with the empty cans. The motive for this act was implied to be the proximity of Kenny's former girlfriend, Kandy Barchet, who was sleeping with her new boyfriend in the apartment below the one belonging to Hope Collins.
The state prosecution based its case on a theory of "transferred intent," asserting that Richey formed the specific intent to kill his former girlfriend and Mike Nichols, her new boyfriend, or both, by starting a fire in the Collins' apartment. The prosecution contended that this intent to kill Kandy and/or Mike was transferred to Cynthia Collins. Later, the prosecution conceded in open court that there was no evidence that Kenny intended to kill Cynthia Collins.
Basinger advanced his case by claiming that forensic tests performed on the carpet in the Collins' apartment revealed traces of petrol and paint thinner.
He said the smoke detector had been disconnected, and mentioned witnesses who stated that they heard Kenny threaten to "blow up" or "burn" the building, and yet another witness who claimed she heard Kenny brag, "I did a good job, didn't I?"
Although Fire Marshall Cryer had initially concluded the fire was caused by an electric fan, he changed his mind by the time of the trial. The State relied heavily on his testimony and that of two other expert witnesses, who opined the fire was caused by arson.
Represented by a court-appointed lawyer who had never before tried a murder case, and who later admitted that he did a poor job, Kenny Richey was convicted of aggravated murder and sentenced to death.
In early 1997, evidence presented to the Ohio Court of Common Pleas conclusively established Kenny's innocence. Kenny's new attorney outlined the flaws in the State's theory.
* The greenhouse owner testified that no cans were missing from the greenhouse, and no empty cans were ever discovered anywhere near the apartment complex.
* The shed on which Kenny allegedly climbed to gain access to Hope's balcony had a sharply slanted roof. Balancing cans on its surface would have been difficult, if not impossible, and it's hard to imagine how an intoxicated man with a broken hand in a cast could maintain his footing.
* Kenny's trousers and boots showed no trace of flammables.
* Kenny knew that the apartments had concrete floors, making it impossible for a fire to burn from one flat down into another below.
* Kandy Barchet testified that she opened her window on that hot night. Had Kenny wished to harm her, he easily could have thrown a can or bottle of petrol with a burning wick into her bedroom.
* Forensic tests performed on the carpet of the Collins' apartment revealed no traces of petrol or paint thinner.
* The belief that Kenny disabled the smoke detector in the apartment persuaded the judges to impose the death sentence. However, the prosecution never submitted any proof to support that theory. On the contrary, months before the trial, Hope's friend, Peggy Villereal, informed Prosecutor Basinger that she had noticed the smoke detector was disconnected before the party on the night of the fire. This came to her attention when the alarm did not respond after Hope burned a steak that evening. This information was never revealed during Kenny's trial, nor was there mention of Mrs. Villereal's statement that Hope often disconnected the smoke alarm when she smoked drugs in her apartment. Hope admitted she smoked drugs in her apartment during the party.
* The same Mrs. Villereal testified that during the party she heard Kenny threaten to burn down the apartment building. Shortly after the trial, she recanted her testimony, saying that she had been very nervous and agreed to testify as the prosecutor wanted.
* Another person at the party, Robert Dannenburg, testified that he heard Kenny threaten to "blow up" the building. However, it became apparent that he also succumbed to the pressure of the trial. Mr. Dannenburg had booked a room at the Lee Bell Motel three days before the trial, and told the motel manager to send the bill to Basinger at the prosecutor's office. He stated that he was living and working in Missouri and did not wish to attend the trial, but did so because Basinger told him the child had been raped -- a misrepresentation used to create a hostile witness.
* Juanita Altimus testified that she was standing beside Kenny as the apartment was gutted and that he bragged to her, "I did a good job, didn't I?" However, Kenny was not present when the apartment was gutted. He was in police custody, being questioned about the party and the whereabouts of Hope Collins.
* Of particular significance were affidavits by Richard L. P. Custer, a nationally recognized fire investigator, and Andres T. Armstrong, Ph.D., a Certified Professional Chemist specializing in forensic science and the testing, detection and identification of flammable liquids in fire debris.
They stated that Kenny Richey was convicted on the basis of demonstrably false and scientifically insupportable testimony by Cryer, Dan Gelfius of the Ohio Arson Crime Laboratory, and L. Gregory DuBois, an expert originally retained by Richey. Custer and Armstrong concluded that the most likely cause of the fire was careless discard of smoking materials.
It is important to note that although the prosecution waged its war against Kenny on the theory of "transferred intent," the three-judge panel issued a written verdict finding Kenny guilty of aggravated murder with "specific intent to cause the death of another: to wit, Cynthia Collins," without any mention of transferred intent. A finding of specific intent to cause the death of the victim was a prerequisite for convicting Kenny of aggravated murder, which made him eligible for the death penalty.
The state prosecution did not dispute the accuracy of the new evidence.
Prosecutor Dan Gershutz, who had inherited the case from Basinger, said, "Even though this new evidence may establish Mr. Richey's innocence, the Ohio and United States Constitutions nonetheless allow him to be executed because the prosecution did not know that the scientific testimony offered at trial was false and unreliable."
Judge Michael Corrigan, who served as foreman of the three-judge panel that convicted and sentenced Kenny to die, refused the defense's request for an evidentiary hearing and dismissed Kenny's appeal. Thus, Kenny was denied the right to prove his innocence. On the wall behind Judge Corrigan's bench hangs a carved wooden plaque bearing the inscription, "And Justice for All."
Kenny's case is currently in federal court. In October of 1998, the Motion of Discovery filed by his attorney was granted. The judge has yet to make a decision on a hearing date.
Prosecutorial misconduct, inadequate defense, tampered evidence and unreliable witnesses -- all these are reasons that the death penalty is in trouble. They are also the reasons Kenny Richey sits on death row despite his innocence.
Support for Kenny is growing. The European Parliament, the Archbishops of Canterbury, St. Andrews and Cincinnati, Ohio, Cardinal Thomas J. Winning, the Archbishop of Glasgow, the International Bannister Foundation, and Amnesty International all support further investigation of his case. Please add your voices to theirs by contacting Karen at: kennyisinnocent@yahoo.co.uk or The Richey Camp. (Additional contact information for Karen and The International Bannister Foundation may be found after Kenny's poem) Please visit Kenny's website at: http://www.kennyrichey.org/
Another Ken Richey website is: http://mitglied.lycos.de/kennyrichey

A Poem By Kenny Richey
I live in hope that freedom will be mine.
That someday soon I'll feel the warmth of sunshine.
That I'll feel the soft, green grass under my feet.
Instead of the cold hardness of prison concrete.
I live in hope that it won't be long.
And until I am free, I will try to stay strong.
Though it's hard to resist, as each day goes by
The overwhelming urge to break down and cry.
I live in hope, for what else can I do?
For to give up hope, is to give up too.
And I will never give up, I'll keep hope in sight,
For this is an injustice and I will continue to fight!!!
---
Karen Richey (Foundation Area Manager & Campaign Coordinator)
210 Hamilton Crescent
Cambuslang Glasgow G72 8TF Scotland
E-mail: kennyisinnocent@yahoo.co.uk
© Justice Denied