The Undisputed Champion of Capital Punishment

By John McLemore

Edited by Anne Good, Justice Denied Staff

Texas is closing out the century with a flourish of state-sanctioned
executions. With twenty-two already posted by the beginning of
September, the Lone Star State is just slightly behind its record-breaking pace set in 1997. By this time in 1997, twenty-four inmates had been put to death. By the years' end, thirty-seven death row inmates were strapped to a gurney and executed by lethal injection. The Texas killing machine was thrust into high gear and the state began executing death row inmates at an unheard-of pace. Since the execution of Richard Brimage Jr. on February 4, 1997, the injection machine has been running at full throttle, carrying out seventy-eight state-sanctioned executions, by far the most in US history.

The thirty-seven Texas executions in 1997 accounted for exactly
one-half of the seventy-four executions nationwide. These chilling numbers prompted the US Supreme Court to keep an eye on the state's use of the death penalty. In October of 1997, four of the nine Supreme Court justices issued a warning: they would be carefully monitoring how the state lets juries chose between life and death sentences.

The reason for the increase in Texas executions is easily explained.
All were put on hold in 1995, when death row inmate James Davis challenged a new Texas law intended to speed up the appeals process for condemned killers. "Once his appeal was shot down, it was like a logjam being broken in the 5th Circuit Court of Appeals," said Dr. James Marquart of Sam Houston State University in a 1997 interview.

Marquart, a Criminal Justice professor and nationally respected
authority on capital punishment, predicted the pace would slow as soon as the backlog of appeals clears up. "The fascination with all of these executions is that they are such a rare event. Back in the 1920s, this would not have drawn near the attention it is today," said Dr. Marquart. Marquart's prediction was correct. The following year Texas executed only 20 inmates, a 46% reduction from the previous year. This number was still good enough to take first place nationwide and with the high profile execution of Karla Faye Tucker, Texas stayed in the world spotlight and hung on to its title of the free world's leading executioner.

So far, in 1999 the Texas killing machine has rebounded: Texas
has already surpassed 1998's total with more than twenty executions. With several more scheduled for 1999, The Lone Star State will no doubt head into the new millennium as the undisputed champion of state-sanctioned executions.

Over the years there have been some pretty good challenges, but the
Texas machine has withstood almost all comers. The Board of Pardons and Paroles has never granted a reprieve. The Governor has, but only once, to serial killer Henry Lee Lucas. Lucas, a one-eyed drifter who admitted to killing his own mother, had been sentenced to die for the highly publicized "orange socks murder" in Williamson County more than a decade ago. There was, in the Governor's mind, a reasonable doubt as to whether Lucas actually committed the murder. Even though Lucas' death sentence was overturned, his conviction was not. He remains in prison for life.

Most are not as fortunate as Lucas (if you consider spending the rest
of your life in prison fortunate). Numerous death row inmates have had cases with more reasonable doubt than Lucas' case, yet they were still executed. One such unfortunate inmate was David Wayne Spence, a high school dropout from Waco, Texas.

Spence was executed April 4, 1997, after being convicted twice of
brutally killing three teenagers at a popular lakeside park in Waco. Many, including the Waco Police Department's lead investigator on the case, believe Spence was not the killer and was unfairly convicted. "The evidence just wasn't there," says former Waco Police Detective Ramon Salinas. "I still don't think the real killer or killers were caught."

In July of 1982, three teenagers, Kenneth Franks, Jill Montgomery and Raylene Rice, were brutally stabbed to death. Prosecutors successfully argued that Spence was hired by Muneer Deeb, a Jordanian convenience store owner, to kill one of his employees. The theory was that Spence mistook Jill Montgomery for the employee. Deeb was also convicted of the murders and spent eight years on
death row before his case was overturned on appeal. He was acquitted in a retrial.

Spence was not so fortunate. He died with a significant number of
unanswered questions and new evidence surfacing almost daily that indicated he may not have been the killer.

Among the unanswered questions: what about the human hairs found on the victims at the crime scene and sent to an FBI lab for analysis?
The results indicated that the hairs did not match any of the victims,
nor did they match Spence or his two alleged accomplices.

The most recent evidence to surface pointing to Spence's innocence is a blood-spatter analysis, which shoots crater-sized holes in the
prosecution's theory regarding where and how the murders took place. The prosecution argued that two Hispanic males, brothers Gilbert and Tony Melendez, assisted Spence in the murders. The Melendez's were easily persuaded to testify against Spence in exchange for two life sentences (one count of capital murder still hangs over their heads in the event that they consider recanting their stories).

Risking the possibility of being tried for the murder and receiving the
death penalty, both Gilbert and Tony now claim they lied about their
involvement. "We were told we didn't stand a chance. We were told we would get the death penalty. We were also told we would make parole in eight to ten years," claims Gilbert, now in his thirteenth year behind bars.

At Spence's second trial, the Melendez brothers testified that the
teenagers were killed at Koehne Park and then transported in a pickup truck around Lake Waco and dumped in a remote area of Speegleville Park. The new blood-spatter evidence, which was a relatively unheard-of science at the time of the murders, indicated that the teenagers were killed where they were found, contradicting the testimony of the brothers.

Retired Oklahoma City Police Captain Tom Bevil did the analysis.
Bevil, considered one of the foremost US authorities in blood-spatter
analysis, studied the science at London's Scotland Yard. After closely
reviewing crime scene and autopsy photos, as well as the autopsies
themselves, Bevil concluded that the three teens were killed precisely where they were found. This makes perfect sense to Detective Salinas. "No blood was ever found at Koehne Park. In a crime where the victims have been stabbed up to 21 times each, you would expect to
find at least a drop of blood somewhere in the area," Salinas says.

Bevil based his findings on several details: "There were no changes of
blood flow patterns visible in any of the photographs. Had the bodies been thrown into the back of a pickup, driven around the lake, pulled out and then dumped, you would expect to see some changes in the direction the blood traveled on the bodies."

Bevil also noted that no intermingling of blood was reported in the autopsies. Had the bodies been piled on top of each other in the back
of a truck, as alleged, Bevil believes it highly probable that at least
one of the victims would have bled on one of the others.

Bevil's most substantial piece of evidence, however, came in the form
of what he calls a "blood froth cap." A blood froth cap, according to Bevil, is a white foamy secretion that is emitted through the mouth when the lung has been punctured. It is emitted at or very near the time of death. "A blood froth cap can be seen in one of the crime scene photos laying next to the head of Raylene Rice," Bevil says. "They are very fragile, so it is highly unlikely that it would be present if she were killed somewhere else."

Further clouding the issue of Spence's guilt is the Laurel and
Hardy-like testimony of his two alleged accomplices. Gilbert Melendez gave no fewer than five statements to police before testifying at Spence's trial, with each statement differing dramatically from the previous. "I had no idea what I was talking about," Gilbert recalls. "I would give a statement, the cops would say it couldn't have happened that way, so I would change it." The most obvious example of Gilbert's fabrications are his recollections as to what vehicle was used to transport the lifeless bodies. In his initial statement, Gilbert claims they used Spence's gold Chevy Malibu to carry the bodies. After it was learned that Spence had sold the Malibu three weeks before the murders, Gilbert amended his story to say they used Spence's
white station wagon. After a complete examination of the station wagon failed to turn up any trace evidence of the crimes, Gilbert changed his story again, this time claiming his own 1963 blue pickup truck was used. It has since been learned that the pickup was in the shop the night of the murders with three flat tires and a broken ignition.

The Melendez brothers only testified at Spence's second trial. A
conviction was secured in the first trial without eyewitnesses. Instead, the State relied heavily on six inmates who testified they heard Spence make incriminating statements about the Lake Waco Murders while in jail.

Since the trial, several of these witnesses recanted their stories, claiming they gained information about the crimes through authorities. In exchange for their testimony, all claim they were given special privileges while incarcerated in the McLennan County Jail. While entirely possible, it would seem highly unlikely that these inmates would be lying now, especially since they are admitting to perjury.

The State's most critical evidence against Spence came in the form of
expert forensic dental testimony. Dr. Homer Campbell testified that a dental mold of Spence's teeth matched what he identified as "bite marks" on the body of Jill Montgomery. This was the only piece of physical evidence ever presented against Spence.

In 1992, an adjunct law professor at the University of Texas
commissioned a dental study of his own. Raoul Schonemann, who took up Spence's appeals, found it odd that the autopsy report did not indicate any bite marks being present.

Schonemann sent the exact evidence used by Dr. Campbell to five leading dental experts, with credentials ranging from FBI Academy instructor to State Police Dental Expert to head of dentistry at a major university. All the experts participated in the study without knowing any of the circumstances surrounding the Spence case. All five experts concluded that there were no bite marks evident on the bodies of the victims. Worse, if there were bite marks, there would be "no way with any degree of scientific certainty" that a match could be made. Yet, several of the jurors cited the bite marks as the single most convincing piece of evidence against Spence.

In an ironic twist, Spence's mother, Juanita White, was murdered in
1986. What makes her death so suspicious is when it occurred. White received a letter in February of 1986, written by one of the inmates who testified against her son. In the letter, inmate Robert Snelson claims he lied at Spence's trial. Ms. White turned the letter over to Spence's attorney, Russ Hunt, who in turn notified the Waco Police Department. On February 28, 1986, an inter-office memo was released throughout the police department detailing the letter. Juanita White was brutally murdered in her home the following day.

The night after her murder, White's house was broken into a second
time. Official police reports indicate that "nothing of value was stolen from the house," but that several boxes of Ms. White's personal papers had been dumped on her bed and "gone through as if someone had been searching for something in particular."

With no eyewitnesses and no physical evidence tying them to the crime
scene, two black males were quickly convicted of Juanita White's murder. In an eerie replay of Spence's first trial, the State used inmate testimony and the same forensic dental expert to secure the convictions against these two unfortunate men.

In an interview shortly before his death, Spence said, "It's not about
justice anymore, it's about politics. They just want to kill me and
close the book on this case." The book is closed for Spence but there are others like him on death row right now awaiting their final chapter.

Hank Skinner, Death Row Inmate #999143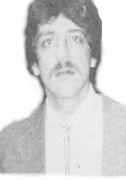 Thirty-five year old Hank Skinner also sits on death row in Texas for a
crime he claims he did not commit. Like Spence and Kelly, there is strong evidencebacking up his claims.

On New Year's Eve, 1993, Skinner allegedly murdered his girlfriend and her two sons. Clinical reports indicate Skinner was nearly comatose at the time of the murders from a near-lethal mixture of Codeine and Vodka. Other physical evidence also casts doubt on Skinner's guilt. The medical examiner found that his girlfriend, forty-year-old Twila Busby, had been strangled prior to her death with hands strong enough to leave permanent indentations in her flesh and to inflict bone fracture. Therefore Twila's killer would need to be a person of immense manual strength. At 5'9" tall and weighing 140 pounds, Hank Skinner is somewhat diminutive in stature. Even more telling, Skinner is severely handicapped. An accident caused severe nerve damage and a 50% tissue loss in his right hand. Twila's oldest son, twenty-two year old Scooter, was also killed that night. Scooter stood 6'6" and weighed 265 pounds. It is unlikely that Skinner
could have overpowered the massive young man.

Add to the equation that Skinner had a blood alcohol level of
.2 -- more than twice the legal limit -- and a .44 grams Codeine per 100 ml. blood level, and it becomes far fetched to picture Skinner overpowering Scooter in that condition -- or even Twila for that
matter.

At his trial, it was never brought out that the two alleged murder
weapons could not be traced to Skinner. A blood-covered pick ax handle and a blood-covered knife were found at the crime scene and taken into evidence. Bloody fingerprints on the knife did not belong to Skinner.

Blood and skin were found under the fingernails of Busby indicating she may have scratched her attacker while attempting to fight him off. Tests were never run on the samples and therefore never compared to Skinner's blood type.

Skinner's claim of innocence has attracted interest from a local church
in Pampa, Texas, a small town located 52 miles east of Amarillo. The
Reverend Albert Maggard believes Skinner was an easy patsy for the Pampa Police Department and The Gray County Sheriff's Department. "Skinner turned up on the doorstep of a neighbor's house a short time after the murders. We believe that he was helped out of the house by Scooter, who was found dead on the porch of another neighbor's house," says Rev. Maggard.

Andrea Joyce Reed, owner of the house where Skinner was found, later became one of the state's key witnesses. In a recently signed affidavit, Reed states that her testimony was false. "On the night of the crime, Mr. Skinner was unable to stand and I had to practically carry him wherever he went in the house," Reed says.

As to why she lied, Reed claims, "After Mr. Skinner was arrested and I was taken to the police station...it became apparent to me that the
officers thought I had some involvement in the crime itself. Several comments were made to me that I could be arrested and charged with being an accessory to capital murder after the fact, and for harboring a fugitive. Officers were constantly questioning me as I was giving my statement, which resulted in ameliorations of the facts of what actually occurred that night. Things were suggested to me and I complied, out of fear of arrest and the police taking my children away, which was mentioned several times." Reed went on to say, "At trial I stated that, in my opinion, he was capable of committing the crime with which he was charged. The truth is that, in my opinion, and as a matter of fact, he was incapable of committing any physical act against any person. He could not even use the bathroom facilities on his own. I had to
hold him up and help him."

Darlie Routier, Death Row Inmate #98096871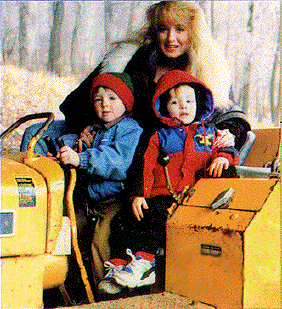 Perhaps Texas' most famous death row resident is Darlie Routier, a
suburban housewife convicted of brutally stabbing her two young sons to death. Ms. Routier was convicted without an eyewitness, a confession or any physical evidence linking her to the crime. She herself was stabbed and her throat was cut. After a lengthy surgery, Routier remained in ICU for 24 hours. After reading the trial transcript this author came to the conclusion that she was not only innocent but that she had been convicted solely by character assassination. The jury was swayed emotionally by a very slick prosecutor.

It was alleged that Routier killed her two sons because the family was
suffering financially. It was shown in court that the family would
collect from two life insurance policies taken out on the boys. What apparently was overlooked was the fact that the life insurance policies were simple burial riders that did not even cover the cost of the funerals. Also overlooked was the fact that Routier's husband, Darin, was insured for close to $800,000. Had money been the true motive for Darlie Routier to kill, it seems far more likely that she would have killed her husband for $800,000 instead of her two sons for a collective $10,000.

Bloody fingerprints were found at the house that did not match Routier
or any member of her family. The importance of this seems to have escaped the jury. What did not escape the jury was a video tape of Routier spraying silly string at the grave of her son Devon, who would have turned 7 just days after his murder. The jury asked to view the tape several times during deliberations. How a person grieves should not be taken into consideration as to their guilt or innocence.

The chilling 911 tape of Routier's call for help was altered by the
prosecution. Her statements were professionally taken out of context
and played separately for the jurors. A crude edit has been discovered on a copy of the 911 tape provided to the defense. The actual call reveals a frantic and hysterical Darlie Routier making a passionate plea for help.

Perhaps the biggest piece of evidence pointing to Darlie's innocence is
the simple timeline that can be constructed around the events prior to and just after the murders. The timeline hinges on the life expectancy of Damon, Routier's youngest son, who was still alive when paramedics arrived. The State's medical expert testified that with the wounds
he suffered, Damon could have lived no longer than nine minutes. The
State's blood expert testified that Darlie was cut before the two boys.

The 911 call itself was 5 minutes and 44 seconds (5:44) from the time
the operator answered to the time the call ended. The call was terminated when the first police officer arrived at the scene and secured the area before allowing paramedics to enter the house. The paramedics testified that they waited no more than two minutes before entering. They treated Damon for approximately one minute before he died in their arms.

If the 911 call lasted 5:44 and it was another 2:00 before the paramedics entered the house, that puts Damon's life expectancy at 7
minutes 44 seconds, provided he was stabbed within one second of the call being placed (5:44 + 2:00 = 7:44). If he lived one minute during treatment, Damon's life expectancy is at 8:44. The medical examiner testified that he could have lived as long as 9 minutes. That leaves 16 seconds for the stabbing before the 911 call was placed. That seems unlikely but it is possible. What makes it impossible is a piece of evidence found by police in the alley behind the Routier house. A sock with the blood of both boys was found about 75
yards down the alley. How did it get there? Darlie only had 16 seconds to commit the murder before making the 911 call if Damon lived a full 9 minutes. There is no way she could have stabbed both boys, cut her own throat, hopped a six foot fence, run 75 yards
down the alley, dropped the bloody sock, run back to the house and
called for help in 16 seconds or less! It just could not have happened that way.

Although Darlie continues to stand by her husband, many suspect he may have played a role in the killings. Millionaire philanthropist, Brian Pardo is bankrolling Darlie's appeal. Pardo believes Darlie was the intended victim and Darin was involved. There is evidence supporting Pardo's theory. Darin was in debt. He was behind on his mortgage, credit cards were over the limit, he owed the IRS several thousand dollars, and a local bank turned him down for a loan just days before the murders. Sources close to the family indicated that Darlie and Darin were having marital problems. Further suspicion is cast when reviewing Darin and Darlie's sworn police statements. Darin claimed he ran downstairs with his pants on and his glasses off. Darlie stated Darin had his glasses on but was in his underwear.

The final piece of evidence for Pardo is a failed polygraph test. After
backing out of several scheduled tests, Darin finally took one on May
22, 1998. According to the examiner, he failed four critical questions three separate times. To the question, "Did you, yourself stab Darlie on June 6, 1996?", Darin's answer of "no" was deceptive. To the question, "Can you name the person that stabbed your sons?" Darin's
answer of "no" was also found to be deceptive.

"I believe Darin was involved," says Pardo. "There is certainly more
evidence pointing to Darin as the most likely suspect than there is pointing at Darlie. There is no evidence, in my mind, pointing to Darlie."

"I did not kill my babies. This has been the biggest nightmare," says
Darlie Routier. "Not only are two of my sons taken from me but I can't even hold my only living child. They have taken everything away from me and now they want my life."

The Catholic Bishops of Texas called for a public outcry in opposition
to the death penalty. "We implore all citizens to call on our elected
officials to reject the violence of the death penalty and to replace it with non-lethal means of punishment." The Bishops said in October 1997, "As religious leaders, we are deeply concerned that the state of Texas is usurping the sovereign dominion of God over human life by employing capital punishment for heinous crimes." The Bishops' statement and outcry has done little if anything to slow the Texas killing machine. It remains the undisputed heavyweight champion of capital punishment.

About the Author

John McLemore is a former investigative news reporter. He has received numerous awards including a Dallas Press Club Katie Award and several Associated Press Awards for investigative journalism. He has been nominated for an Emmy Award for his role in covering the Branch Davidian Shoot out at Mt. Carmel. Caught in the crossfire between ATF agents and Branch Davidians for over two hours, McLemore and his photographer were able to do several live reports and capture on tape the graphic video seen by millions. McLemore's work has been mentioned on Dateline NBC, Hardcopy, The New
York Times and several other publications.
© Justice Denied