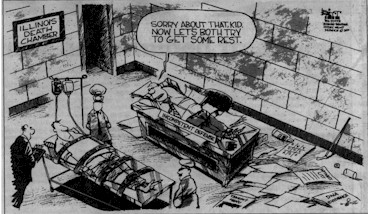 Illinois Moratorium on Executions Commands World's Attention
By Dolores Kennedy, JD Correspondent in Illinois
In a move that commanded worldwide attention, on January 31, 2000, Illinois Governor George Ryan declared a moratorium on further executions in Illinois pending "the opportunity to review the recommendations of a commission that I will establish."
Stating that the Illinois death penalty system is "fraught with errors," Governor Ryan acknowledged that the release of 13 death row inmates based on findings of innocence had encouraged him to impose the moratorium. "We have now freed more people than we have put to death under our system -- 13 people have been exonerated and 12 have been put to death. There is a flaw in the system, without question, and it needs to be studied...I will not approve any more executions in this state until I have the opportunity to review the recommendations of the commission that I will establish," Ryan told Chicago reporters. "I will ask this commission to initiate a review of the death penalty in Illinois," he added.
Death penalty opponents regarded this as an important first step toward abolition. "It was a very positive sign and it took courage on the part of the Governor," stated Bill Ryan, chairman of the Death Penalty Moratorium Project. "No one else in a prominent political position has stepped forward and called for a moratorium and a comprehensive review," he said.
The Governor's action met with mixed reactions from politicians, but most praised his decision. At least five other states are considering moratoriums or bans on capital punishment, though measures have so far failed.
The imposition of a moratorium by no means ends the death penalty in Illinois. All death row inmates will remain under death sentence. It simply postpones the executions until such time as the Governor is satisfied that the system works. In his announcement, Ryan made it clear that he still supports capital punishment.
Nationwide, 85 people have been freed from death row since 1977, when capital punishment was reinstated in the United States. A recent series by the Chicago Tribune that examined nearly 300 Illinois death penalty cases since 1977 "deeply troubled" the Governor, stated one of his aides. The series reported that 33 death row inmates had been represented at trial by attorneys who had been disbarred or suspended and that about half of the state's capital cases had been reversed for a new trial or sentencing hearing. It also reported that in 46 cases, prosecutors had used testimony from jailhouse informants, which is widely believed to be the least reliable evidence in criminal cases.
The panel to be established by Governor Ryan will be one of many currently seeking answers in Illinois. Among those already at work are the Supreme Court Special Committee on Capital Cases, the House Task force on the Death Penalty, the House Special Committee on Prosecutorial Misconduct, the House Task Force on Videotaped Confessions and the Task Force on Criminal Justice.
Ryan said he was aware of those other panels, but said that, as governor, he is "ultimately responsible."
"Although I respect all of these leaders and what they have done and I will consider all that they say, I believe a dialogue must begin on the fairness of the application of the death penalty," he said.
© Justice Denied