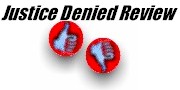 {Justice: Denied hopes to publish William Thomas (Tommy) Zeigler, Jr.'s full case account in a later issue. For now, we present you with a review of a book about Zeigler by Gail Anderson, one of his strong advocates.}
FATAL FLAW: A TRUE STORY OF MALICE AND MURDER IN A SMALL SOUTHERN TOWN
by Phillip Finch Villard Books $20
Reviewed by Gail Anderson
Fatal Flaw has all the components of a superb fictional thriller: a holiday murder spree, a zealous police investigator, an unlikely suspect, the hint of a sinister police cover-up. Tragically, Fatal Flaw is a true story and Phillip Finch convinces us that the four people brutally murdered in a Winter Garden, Florida, furniture store in December 1975, were not the only victims. Tommy Zeigler, convicted of the murders and awaiting execution on Florida's death row, is innocent.
Life had been good for Tommy Zeigler. At age 30 he had a lovely, sweet-tempered wife, devoted parents, and a prosperous furniture store business -- one of the few white businesses in this small southern town that extended credit to its black customers. All of that was to change. Before Christmas Eve was over, Zeigler's wife, Eunice, her parents, and a black customer would be murdered, Zeigler would be critically shot, and investigators would decide that Zeigler himself had committed the crime and would begin building a case against him. Was the killer Zeigler, or were the murders the result of a robbery attempt gone awry? Or, was the blood bath really an attempt to murder Zeigler by enemies he had made while trying to expose an alleged loan-sharking ring that preyed upon the poor black migrant workers in the Winter Garden area?
Phillip Finch gives us a meticulous investigation of the case -- allowing us to draw our own conclusions as the facts are laid out before us. Unlike Zeigler's trial jury, we are provided with all the evidence pertinent to the case that was available at the time of the trial and are shown the new evidence that has surfaced over the years since Zeigler's imprisonment. Finch permits us to share in his in-depth interviews with the principals involved, including Zeigler. Despite its complexity and technical aspects, Finch weaves this tale in a captivating "reader friendly" manner, carefully documenting all of his work.
Finch thought that after 17 years all the facets of the case would have been thoroughly explored, but what he discovered was incredible. Not only was the police investigation completely inept and clearly biased against Zeigler, but the highly circumstantial trial was a travesty of justice. The state's case, Finch tells us, depended on the testimony of two men who, had they not been state witnesses, would otherwise have been the chief suspects. Names of other witnesses known to the prosecution before the trial were withheld from the defense along with crucial pieces of evidence. Finch makes the state's case as well as the prosecutor did in 1976, and then he demolishes it -- showing how all avenues lead to dead ends. There is not a credible scenario of guilt for Tommy Zeigler.
Finch says that he tried to resist conclusions throughout his research and when he finally developed them, they were based solely on the results of his investigation of the documentation. Says Finch, "When I started this project I told myself that I would not get bogged down in the heartbreaking enterprise of proving Tommy Zeigler's innocence or guilt. The questions of whether the case had been adequately investigated and whether Tommy had received his due of justice and fairness, seemed much cleaner and easier to answer. Naturally I got sucked in anyway -- it's irresistible. I found that the logic of his innocence is far more straightforward and compelling than that of his guilt."
In the conclusion of his book, Finch astounds us with his skillful analysis of evidence that had somehow slipped by everyone. This is clearly investigative reporting at its best.
Fatal Flaw is a book you won't be able to put down. As one of the book's readers said, "I can see the truth. It made me angry. Why can't the truth be seen by the people who make a difference?"
That question can be answered by Finch, "If you don't apply a great deal of mental discipline in investigating this case, you end up finding only what you expect or want to find...they made the mistake of arresting Tommy when very little evidence was in. They could not afford to have Tommy innocent.... Over the years, most of those who have come into contact with the case have tended to be overwhelmed by the complexities, and cling to the state's case as a convenient mental lifesaver despite its convoluted logic."
Reverend Jim McCloskey of Centurion Ministries has stated that it is about as rare to find an innocent man on death row as it is to find a pigeon in the park. Fatal Flaw is the story of one such innocent man -- and Phillip Finch tells it brilliantly.
Fatal Flaw can be found through your local library, or the complete book may be viewed/downloaded online at, http://libertary.com/books/fatal-flaw
Click here to sign a clemency petition to Florida's governor, Justice For Tommy Zeigler.

© Justice Denied